In today tutorial we are going see about How to Send Push Notifications from Postman by Using OneSignal API
Recently I started Using OneSignal Love their Features.
Send Unlimited Push Notifications to Web Browsers and Mobile Devices.
I am the Big fan of API Mostly I use API Systems to Manage My web apps and other development Tasks yes I am very Lazy to manage Everything Directly Same thing for OneSignal Feel lazy to Post Push Notifications from the dashboard So Plan to Post it VIA API
OneSignal Providing a Clear API Documentations
OneSignal API Documentation
Tools I used to Post the Push Notifications From API
Postman (Great tool to Build and manage the API's)
OneSignal Rest API Key
How to send OneSignal Push Notifications from Postman?
First Download Postman Google Chrome Extension or download their Software
Next login to your OneSignal account and collect the APP ID & API Key from the APP that you want to send push notifications from postman

Now open Postman
In the URL Field Choose POST Method
Past the OneSignal API URL in the Field
https://onesignal.com/api/v1/notifications


Now to Goto Headers and Click Bulk Edit
Paste the Following Codes on the Box
https://onesignal.com/api/v1/notifications
Authorization:Basic :API KEY
Content-Type:application/json


Replace API KEY with your OneSignal REST API Key
Now go to Body
Choose Raw
select Content Type - JSON Application
Now paste the Below JSON Code on the Textbox
{
  "app_id": "YOUR APP ID",
  "included_segments": ["All"],
  "data": {"foo": "bar"},
  "headings": {"en": "PUSH NOTIFY TITLE"},
  "contents": {"en": "PUSH NOTIFY CONTENT"},
  "url": "PAGE URL"
}

Replace YOUR APP ID with your OneSingal APP ID

Click SEND button to Run the OneSignal JSON API it will send Push Notifications to your all OneSignal Push Notification Subscribers
 "included_segments": ["All"],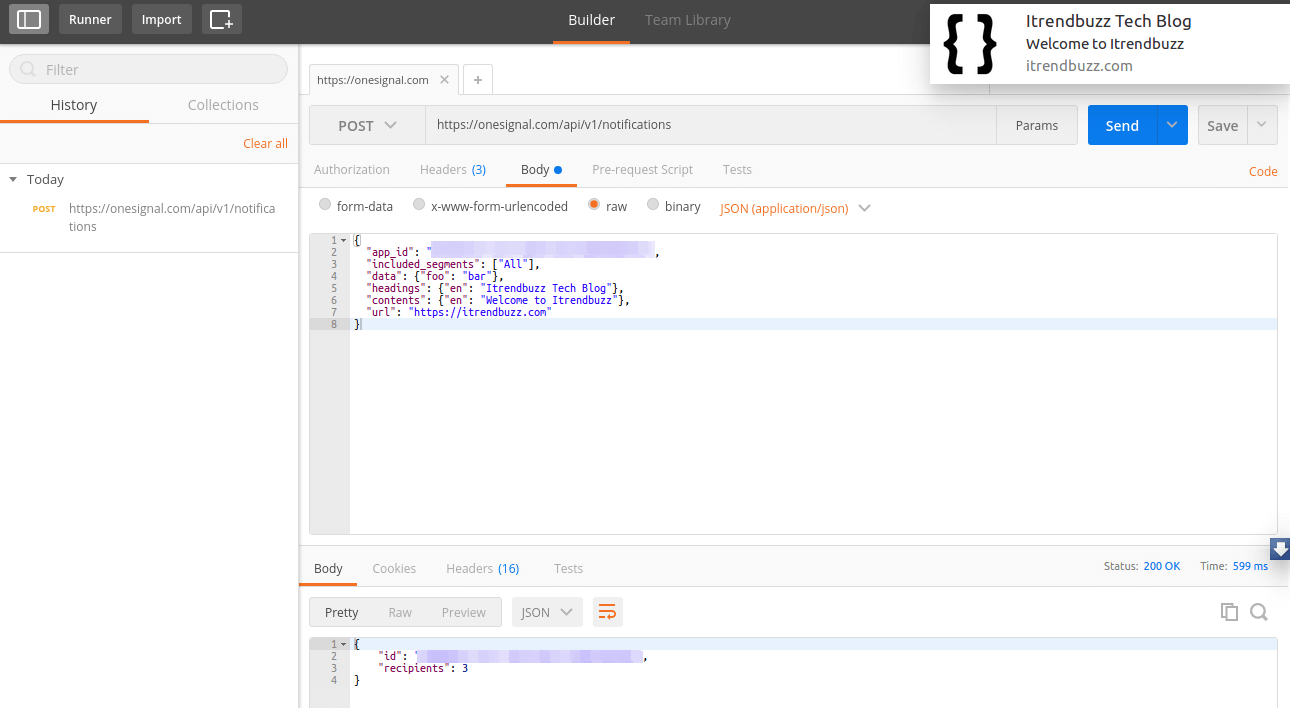 That's all Successfully we Send Push Notifications from Postman by Using OneSignal API
Create a Blog like Itrendbuzz